Weston is a small, picturesque town located just outside of Boston. With a population of just over 11,000, there is a warm, friendly feel as you stroll through the town center. As residents go about their daily errands, they can be sure to see familiar faces whether it is at the post office or the supermarket. A major benefit to living in Weston is the easy access to all amenities. Banking, supermarket shopping, auto repair, clothes and gift shopping, dining, and hairdressing can all be done in the town center. Doctors, dentists, orthodontists, lawyers, real estate agents, landscape designers, and many other professionals all have their offices within a one mile radius.

Two major highways, Route 128 and the Massachusetts Turnpike, have Weston exits. Residents who work in the city can be at their office in no time at all. With the completion of the Ted William's Tunnel, travellers can be at Logan Airport in 30 minutes. Along with driving access, public transportation is available by the commuter rail line that runs along the north side of town. Sports fans can take the train from Weston to North Station, home of the Boston Garden, and enjoy Celtics and Bruins games without the stress of finding parking.

For more information about the town of Weston, check out: www.weston.org
Weston Trails...
The Weston Forrest and Trail Association keeps the numerous walking trails in top condition. An indepth guide to eighteen trails are featured in a book written by longtime resident, Mr. Elmer E. Jones. This book is available to borrow if you stop by our Century 21 office conveniently located in Weston Town Center.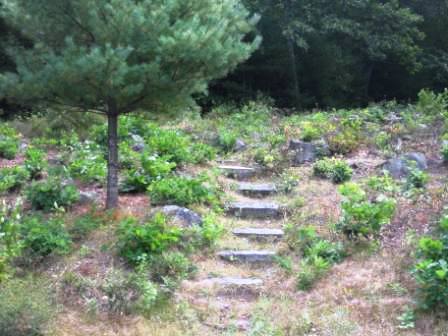 Trail opening on Highland Street in Weston.